The SWF Academy is an Executive Education program designed for young professionals of Sovereign Investors (including public pension funds), who may be about to assume new responsibilities including management and leadership positions. Our mission is to support that significant step, providing students with three important tools for their success: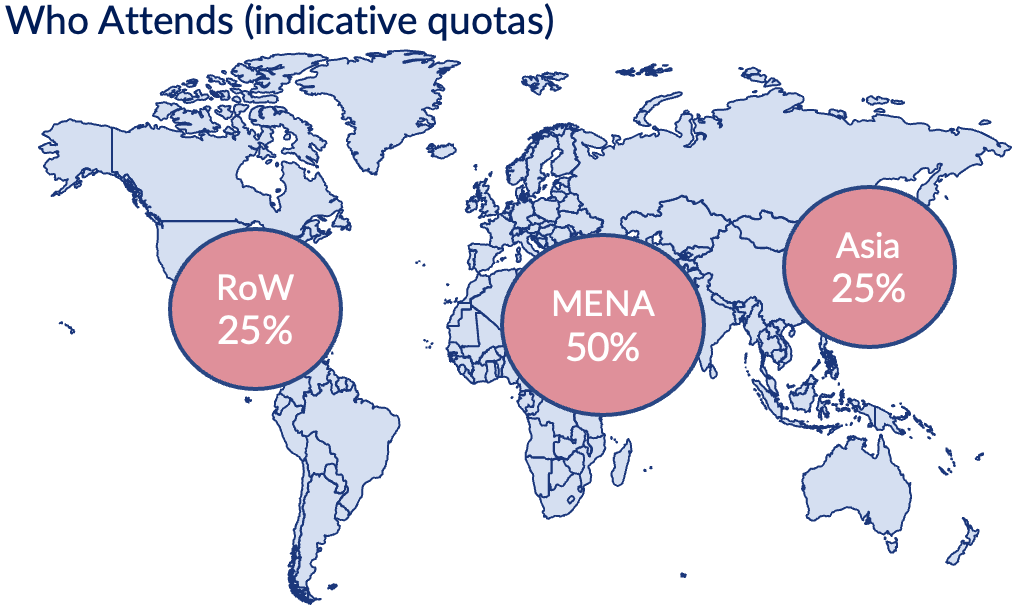 The technical subjects are focused not only on investment but also on other functions including governance, legal, operations and risk; so that we can welcome professionals across all departments. The curriculum is complemented by practical case studies and smaller working groups, to incentivize cross-learning and collaboration among participants.
In addition to LBS professors in leadership and finance, the faculty is comprised of Global SWF senior advisors, who include current or former executives and board members of Sovereign Investors in the Middle East (ADIA, UAE CB), Central & South East Asia (Temasek, NIC), North America (AIMCo, Wyoming), and Sub-Saharan Africa (Pula Fund, Agaciro).
The first cohort took place in Dubai on February 13-17, with the participation of delegates from the world's largest investors in the Middle East, Africa, Asia and North America. The second, independent cohort will take place in London on May 8-12 and is filling up quickly. We will review nominations until we reach a class size of 25-35 delegates.
If you are an HR / L&D executive and would like to nominate delegates, or if you are a potential participant interested in hearing more, please reach out to one of our co-Program Directors below. We look forward to having you at the SWF Academy!